Browse by Author: Peter Bromley
Ordered by popularity
Voles in Commercial Orchard and Ornamental Nurseries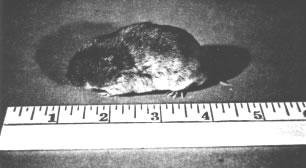 This publication will help you identify voles and vole damage and determine when, where, and how to control vole populations using environmentally sound and economical methods.
Wildlife and Forest Stewardship
Developing forestland to continually produce timber and provide wildlife habitat requires an active management plan. Forest stewardship, the process of managing all of the forest's natural resources together, enables us to conserve our forest resources, including timber, wildlife, soil and water. Forestry and wildlife management are not only compatible, they are interrelated. Managing for wildlife habitat can even improve forest productivity. This publication describes the basic concepts of management, showing how forestry operations affect wildlife habitat.
A Landowner's Guide to Working with Recreationists
With an increase statewide in outdoor activity, many landowners report unacceptable levels of trespass, littering, property damage and game law violations. This publication discusses (1) liability, (2) ethical standards for recreationists, (3) alternative ways of managing access to private lands, and (4) dealing with trespass.