Benefits of Farm to University (F2U) Work
Universities spend hundreds of thousands of dollars on food each year. The cost of a typical college dining contract increased by 47 percent over the last decade compared to a 26 percent increase in overall food costs in the United States (Mathewson 2017). One possible reason for the rise in spending is student demand for fresher, higher quality food, including more local foods. N.C. Cooperative Extension educators can help farmers take advantage of this trend with Farm to University (F2U) programming. This F2U programming can be designed to increase campus demand for local foods and to facilitate farmer connections to campus dining and other sales channels for local foods. These pathways include indirect channels, such as through intermediary food service distributors, or direct channels from farms to campus members through food delivery box programs or near-campus farmers' markets. Figure 1 illustrates the various pathways that Extension educators can use to facilitate connections between farms and universities.
Farm to University work can be particularly significant in smaller communities where the local university or college may drive the local economy. Often campus communities want to support the local economy but do not have direct connections to local farmers or know how to organize campus demand for local foods. In the same way, local farmers often want to establish sales relationships with nearby universities but do not know how to navigate the university food service.
This publication provides information that N.C. Cooperative Extension agents can use to build a Farm to University program. The information is based on lessons learned working with campus communities over five years in conjunction with two NC 10% Campaign project collaborations: UFoods and the Local Food Ambassador Program.
Five components of F2U programming:
University food system education
Farmer preparation
Campus outreach
Campus local food teams
Impact reporting
Understanding University Food Service
The first step in building F2U market channels and other relationships between farmers and the university campus is to educate farmers and campus advocates about the structure of university food service. This section serves as a primer on the university dining system.
University dining services include:
Small retail outlets ("C-Stores")
Catering
Dining halls and retail food outlets on university campuses are either "self-operated," in which university staff manage all operations, or they come under the control of a contracted food service management company (FSMC). Aramark, Sodexo, and Compass Group are the three largest FSMCs in the United States and account for a combined 56.9 percent of market share. Examples of other FSMCs with a smaller share of the market are Pioneer, Meriwether Godsey, and Thompson Hospitality.
Whether operated by the university itself or by a contracted FSMC, food service typically serves as a source of general operating income for the university. In other words, monies generated from dining operations are often used for other purposes. This fact, along with the for-profit nature of FSMCs, puts pressure on dining managers to keep costs as low as possible, while also maintaining sufficient quality to attract students and other campus members.
Universities contract with food service companies to manage food orders or, in the case of self-operated programs, they contract directly with the authorized food companies and distributors to manage food orders. Group Purchasing Organizations (GPOs) aggregate large orders between food service companies and university buyers to create discounts based on high volume orders. Figure 2 illustrates the flow of information, contracts, and food between the various entities involved in bringing food from producers into dining halls.
Compliance and Contracts
Dining managers and chefs are typically required to purchase 80 to 95 percent of their products from authorized companies and distributors. By agreeing to purchase minimum volumes from these authorized vendors, FSMCs and self-operated dining services receive price discounts, which help dining management lower food costs. Universities can influence these percentage compliance numbers and make requirements of FSMCs (such as adding local food sourcing requirements) during the contracting phase with an FSMC. Contracts with FSMCs are usually long-term, with many universities committing to 10 years or more. Being aware of when a new contract will be negotiated is key. Although mechanisms do exist for making interim changes to contracts, the most effective method for change is by influencing new contracts. University students can influence the procurement language of the contract by communicating their demand for local foods to administrators.
Resource:
Farmers Can Sell to Dining Services in Three Main Ways
Through an existing authorized vendor
In North Carolina, many universities use FreshPoint/Sysco or Foster-Caviness as the authorized vendors for fresh produce. Growers can become vendors to these distributors, which sell their product to dining services. (For grower guidance on how to sell fresh produce through an intermediary distributor, see How to Sell Produce to Distributors.) University chefs and dining managers can advocate for particular local farmers, requesting that the distributor purchase product from that farmer so that the chef has access to it.
By becoming an approved vendor
A farmer becomes an approved vendor by filling out the appropriate paperwork required by the FSMC. Even though approved, purchases from these vendors are considered "out of compliance" because they do not fall within the contractually required purchased minimums of the authorized vendors. With increased paperwork and lack of support from centralized FSMC corporate offices, dining managers may be very reluctant to set up local food vendors as approved vendors. Universities, however, can change this dynamic by contractually requiring that particular local vendors—a local food hub for example—be given the status of approved vendor. Dining managers are also likely to order specialty items from approved local farmers if their authorized vendors are unable to fill a requested order. If a catering order from the university dean's office, for example, requests local pastured-raised pork for an event, this can trigger dining to order from a local approved vendor if the authorized vendor does not carry this product.
Via "P-Card" or procurement credit card
This approach can be a good way for dining to make one-off purchases of local products for special events or catering. Growers should treat these sales as they would sales to a restaurant account, sending the catering manager their availability list each week.
Farmers Can Sell to Campuses in Four Additional Ways
Campus Retail Stores
To sell product through a campus retail store, a farmer must also go through the process of becoming an approved vendor. Farmers should find out the number of retail stores and the fresh/frozen products that can be accommodated before contacting dining services.
Culinary Programs
Culinary programs will be interested in specialty items and will focus on the quality of food over quantity. Farms can register to become a vendor for culinary programs at community colleges through the North Carolina E-Procurement System.
Box Delivery Programs
Although delivering boxes of local food products on campus usually does not require approved vendor status, accessing university drop-off sites occasionally requires special permission. Encourage farmers to work with a graduate student group or a staff wellness program; this may be the best way to reach students and staff who can utilize a weekly box of local foods.
Farmers' Markets
On-campus farmers' markets are often hard to sustain, and academic schedules overlap only a few weeks of the traditional growing seasons. As an alternative, encourage farmers who sell at markets near campuses to engage college students through social media marketing and discounts with student ID cards. Encourage farmers who do sell at campus markets with administrative approval to sell items that need little or no preparation like fruits, carrots, cucumbers, lettuces, or items that are already processed like jams or dried fruits, zucchini bread, honey, jerky, and cheeses.
Identifying and Preparing Local Farmers
There are many market pathways for local foods on university campuses. Extension agents are instrumental in identifying and preparing local farmers for these markets.
To access the university's wholesale markets, farmers may need to look into becoming certified for Good Agricultural Practices (GAP) and/or carrying additional insurance. Help farmers understand that, in selling to a university food service, margins can be small and high volumes are preferred. Selling to an aggregator, distributor, or food hub might simplify and streamline the process of selling to an institution. These entities will have their own requirements that may be more or less stringent than those of the university. Helping local farmers to navigate the requirements and weigh the options are important beginning steps in the F2U process.
After an initial assessment of whether the university market is a good fit for the farmer, help connect the farmer with dining services to build rapport and to find out which products are needed. A university dining service chef or purchaser may informally commit to buy certain products that the farmer can then plan to grow the following season. Once farmers have a relationship with dining services, agents can offer marketing support and identify opportunities, barriers, and specific goals. Table 1 illustrates the roles, responsibilities, and influence of each university food system contact.
"A larger local farmer could provide all of a university's needs for a single product….. However, I think that the more that there is an awareness in the university students, staff, and faculty, there could be more demand for local foods, and that could open up markets for our small, diversified farmers too." – N.C. Cooperative Extension agent
"GAP (Good Agricultural Practices) certification is a breaking point for most farmers...if farmers could see a viable outlet and the buyer comes to show some numbers, the farmers might see that the additional income would outweigh what small expense and time that it takes to document everything required for GAP." – N.C. Cooperative Extension agent
How Cooperative Extension Can Be Involved
Identify farmers ready to sell or interested in selling to universities.
Provide training in GAP certification and post-harvest handling for farmers.
Offer training in university food vendor paperwork for farmers.
Encourage farmers to sign up for the e-Procurement system for community college culinary programs.
Encourage farmers to sign up for free online farmers lists like the NC 10% Campaign or UFoods Farmers Map.
Identify foods commonly used by universities that can be grown by local farmers.
Connect farmers to local food hubs/distribution companies.
Hold a farmers' market meeting with the university's executive chef.
Resources
What to grow?
The best support to give farmers about what to grow for colleges and universities is to encourage and facilitate their connection to a dining services representative, chef, catering manager, or culinary program director. Once a relationship is established, the farmer can work with this contact to determine what is appropriate to grow. Farmers should continue to foster the relationship by sending seasonal availability lists, preferably with photos, or ideally by visiting with samples. Dining, catering, and culinary departments can then use this information in menu planning. Since universities are in session mid-August to late-May, farmers should consider season extension methods as a way to capture university markets.
Common local food products purchased for farm-to-university programs:
Sweet potatoes
Summer squash
Cucumbers
Green bell peppers
Melons
Strawberries
Hydroponic lettuce
"Around here it's collards, cabbage, mustard, turnips, and sweet potatoes. That's it. There's a lot more that you could grow, but our guys maybe don't feel that there's a market for it, or maybe they tried and there wasn't a market for it; but I think trying to encourage some diversification in what we grow would open up some markets." – N.C. Cooperative Extension agent
Specialty local food products that are often requested for farm-to-university catering and culinary programs:
Unique fruits and vegetables
Mushrooms
Microgreens
Goat cheese
Pastured meats
When farmers visit food service managers, chefs, or culinary program directors, they should bring a portfolio of the farm that includes photos of their farm and the products they grow. This can be communicated through a brochure or a one-pager. It is important for farmers to also have information about the farm on a website or social media account because dining and food service managers often look online for the farm's story.
We recommend that the promotional materials include the following:
Information About the Farm:
Location / address(es)
Brief history
Total production
Current successful markets / accounts
Products:
List of products being grown under or planned under GAP certification
Description of a plan to expand production as demand increases
Liability Insurance/Certifications:
Certificate of liability insurance, including the insurance company name, and the amount of coverage
Name and insurance / certifications of processor (where applicable)
Other certifications, such as organic
---
Table 1. Roles, responsibilities, and influence of each university food system contact.

| | |
| --- | --- |
| University Administrators | University administrators such as those in Business and Auxiliary Services are responsible for implementing the contract with food service management companies. Chancellors or vice chancellors can sign campus-wide procurement policy, based on student demand, to influence the contract conditions that the university has with food service management companies and with authorized food companies and distributors. |
| Food Service Management Company (FSMC) | A university's dining service is either self-operated or has long-term contracts with food service management companies. Language in the contracts determines the focus of the FSMC. These contracts can include procurement language that requires a purchasing preference for local foods, such as the requirement that a specific percentage of product be from local sources. It is important for the contract to specify what is considered "local." A key distinction is whether a food is locally produced vs locally processed, manufactured, or packaged. |
| Authorized Food Companies and Distributors | The products from "authorized vendors"—a particular frozen foods manufacturer, for example— appear in the order catalog from which dining services orders each week (see the description of authorized vendors in Figure 2). In most cases, the authorized distributor (such as US Foods or Sysco) is simply transporting items that have already been contracted by the FSMC. Farmers can sign up to be vendors of authorized food companies and distributors to sell their products to nearby schools. |
| Dining Manager | University dining managers are in charge of staying in compliance with the university contract and with any contracts held with authorized food companies or distributors. Student demand can influence dining managers to request local foods from authorized distributors or even take the extra steps required to purchase local foods directly from a producer (by setting up a farmer as an "approved vendor"—see Figure 2). Farmers should contact the dining manager and the school's authorized distributor with information about their farm and what products they can provide. Student advocates should contact the dining manager to promote the benefits of sourcing local foods and to demonstrate their campus' demand for local foods. |
| Executive Chef | University executive chefs plan menus for the dining hall and appreciate high quality ingredients. They often engage the student body through cooking demonstrations or events that can be used to highlight local foods. Farmers should give the executive chef information about their farm and what products they can provide. They should do this in person if possible. Student advocates should invite the executive chef to be a part of events and demonstrations using local food ingredients. |
| Catering Manager | Catering managers can often buy from local farmers without needing to set up the farmer as a vendor if the client requests items that authorized vendors cannot supply. However, if catering purchases from the farm regularly, it might request that a farmer become an approved vendor. Student advocates and farmers should contact catering managers, as well as alumni centers and sustainability offices, with information on local farms, what's in season, and the benefits of buying and catering with local foods. |
| Campus Retail Store Manager | University retail stores can source local foods for resale if students request them and are willing to pay for the items. Retail stores can be good places to sell "grab and go" items such as cheeses, locally made jerky, or baked items. Encourage farmers to meet with retail store managers (or the dining manager) to provide information and signage about their products. |
Local Food Outreach on Campus
Cooperative Extension F2U programming can educate the campus community about local foods and build demand for it. Educational opportunities often help pave the way for building demand across the campus community, starting the conversation so that students begin asking for local products on campus. Teaching these emerging consumers about local foods can create future markets for farmers in the community.
How Cooperative Extension Can Be Involved
Hold presentations or film screenings for classes or student clubs.
Exhibit at campus events like Earth Day.
Offer cooking demos on campus that include Extension Master Food Volunteers.
Organize farmers' market tours aimed at students.
Facilitate farm visits/tours with students/classes.
Facilitate campus garden technical planning sessions and gardening workshops that include Extension Master Gardener Volunteers.
Bring farmers to the table —to speak on campus or share samples in the dining hall
Share the UFoods Farmers Map with the university dining/catering manager.
Share information about local food resources and events with the campus communications department and with student clubs.
Tag related campus social media pages and the NC 10% Campaign (@nc10percent).
Share campus or county local food guides with campus contacts or create guides if none exist.
"I think the prime example of building direct-to-consumer markets on campus is seeing students actually go to the farmers' market now, so you're creating that direct relationship."
- N.C. Cooperative Extension agent
Resources
Training and Facilitating Local Food Teams
University local food programming can often be inconsistent as students graduate and dining service staff turnover. Cooperative Extension agents can engage campuses by training and facilitating local food teams, such as those created around the NC 10% Campaign's university-based Local Food Ambassador Program. For sustained programming, we recommend building a campus-based local food team with campus representatives from a student club, the sustainability office, dining services, and interested staff/faculty. Agents, farmers, and related community members can educate campus members on crop seasonality, local availability, farmer challenges, agriculture in general, and local food resources.
These campus-based local food teams give a voice to students and farmers who might not otherwise be invited to the table with university buyers. If possible, encourage the team to provide funding or honorariums for students and farmers who participate. Increasing local food procurement or developing new markets on campus can take many years to accomplish; having campus departments and offices commit a staff position to the team can ensure long-term momentum.
"I was so shocked to find out that that guy sitting next to me in the meeting was from Sodexo. To have him at the table with farmers—that was the biggest accomplishment I've seen for a university local food team." - N.C. Cooperative Extension agent
The campus-based local food teams determine long-term local food procurement goals for the campus, connect local foods with campus sustainability efforts, advise student activities, and bring together groups focusing on local foods in different ways. These teams often meet at the beginning of each semester, can support campus-wide events around local foods, and can be instrumental in crafting procurement policy for the university.
Many campuses are setting goals for the procurement of local and sustainable foods. A first easy goal for procurement is signing up for the NC 10% Campaign. National programs include Real Food Challenge, Good Food Purchasing, and the Association for the Advancement of Sustainability in Higher Education (AASHE). Often it is helpful for an agent to assist with setting realistic goals and advocating for farmers throughout the process of passing or writing policy.
How Cooperative Extension Can Be Involved
Attend student meetings with dining services or administrators.
Identify farm representatives for local food teams.
Attend campus food team meetings or summits.
Facilitate campus food team meetings.
Encourage the team to complete a campus assessment when considering local food programs and/or adopting policy. Topics may include: decision maker and advocate contacts; how food service runs; current contracts and restrictions; current local food programs; other sustainability goals; and farmer readiness.
Resource
Reporting Farm to University Work
Farm to University work can be hard to report because the activities may not immediately result in new farmer sales or new consumer access points. However, if the outcome of new or increased sales is achieved, Extension educators may be able to report impact with estimated sales numbers. By working closely with authorized food distributors, especially fresh produce distributors, Extension educators can help growers to create new markets by becoming vendors to these distributors, and then request sales numbers from the distributor for their annual reports. Businesses may be reluctant to share actual sales dollars, but may share a percentage increase (for example, a year-over-year percentage increase in produce volume or sales purchased from local farmers).
It is important to remember that educating growers about the realities of selling to universities may have the favorable result of saving growers time and energy in pursuing this market channel, even if they decide not to do so. Individual university dining managers or chefs often do not have the authority to purchase from local vendors, and the challenges associated with this may simply rule out farmer sales to dining services at the local university. Saving the grower time in coming to this realization is valuable and can be reported by Extension as part of its programming to inform growers of additional market channels.
F2U work may be preparing the next generation of consumers to understand local food systems. However, working with a transient student population can make it difficult to quantify a sustained impact on local food markets. Extension educators working with a local campus team or student club can contribute to reporting in the Community Development and Leadership Development areas of an Extension annual plan. Speaking engagements, outreach events, and workshops can all count as local foods and consumer education activities.
F2U programs can include Cooperative Extension outcomes and reporting metrics, such as:
INCREASED KNOWLEDGE
# of farmers trained in production or marketing of local foods
improved knowledge of local food systems or growing food in campus gardens (in youth and adults)
# of individuals who learn to prepare local foods (at cooking demo events)
INCREASED PRODUCTION
# of individuals or youth who grow items in community/school gardens (when programming includes campus gardens)
INCREASED MARKETS
# of new access points for local foods
# of farmers selling to local markets or diversified into local markets
INCREASED SALES
Gross sales ($) of local foods grown by producers
# of farmers with increased local food sales
"I think F2U work on campuses helps put a face to the local food movement. It also helps to show that college students can become engaged civically and make a big impact as well." – N.C. Cooperative Extension agent
References
The Association for the Advancement of Sustainability in Higher Education. 2018. The Sustainability Tracking, Assessment, and Rating System.
Center for Environmental Farming Systems. 2016. Estimated Rows and Acres of Production Per Case and Pallet at Wholesale, Select Crops.
Center for Environmental Farming Systems. 2017. How It Works Handbook: A Guide to University Food Systems and Local Food Programs.
Good Food Purchasing Program. 2018.
Kure, Keirstan, Lauren Horning, and Rebecca Dunning. 2018. How to Sell Produce to Distributors. LF-016. Raleigh, NC: North Carolina Cooperative Extension.
Lauffer, Laura, and Dunning, Rebecca. Center for Environmental Farming Systems. 2017. Hubs & Kitchens Directory.
Mathewson, Tara G. "Here's Why Food Is So Insanely Expensive at College." 18 Jan 2017. Money. Time.com Web. Accessed 15 May 2018.
NC E-Procurement System (for culinary programs).
NC 10% Campaign. 2018. Farm to Dorm Cooking Videos.
NC 10% Campaign. 2016. Film Screening Toolkit.
NC 10% Campaign. 2018. Local Food Ambassador Program & Introductory Manual.
NC 10% Campaign. 2016. Grower-Buyer Connections Planning Guide.
NC 10% Campaign. Local food promotion materials.
NC 10% Campaign. 2016. Social Media Guide: Facebook Page Management.
Real Food Challenge. Campus Commitment.
Tripp, Patricia "Trish." Center for Environmental Farming Systems. 2014. Wholesale and Retail Product Specifications: Guidance and Best Practices for Fresh Produce for Small Farms and Food Hubs.
UFoods (University Food Systems). 2017. UFoods Farmers Map.
UFoods. 2017. Campus Local Food Guides.
Supporting Organizations
UFoods (University Food Systems) was a two-year project supported by the United States Department of Agriculture's National Institute of Food and Agriculture - Agriculture and Food Research Initiative (USDA NIFA AFRI). It was designed to develop new market opportunities for farmers by building collaborative supply chain links from farms to university campuses in North Carolina.
The NC 10% Campaign is a collaborative statewide initiative led by the Center for Environmental Farming Systems (CEFS) and N.C. Cooperative Extension. It promotes locally grown/caught food, local farmers and fishers, and the businesses and people who prepare, distribute, and sell food grown in North Carolina.​
The NC 10% Campaign encourages N.C. individuals, businesses, organizations, and institutions to spend at least 10% of their food dollars on N.C.-grown foods.
Universities can sign up for the NC 10% Campaign by visiting their website.
---
The authors would like to thank Mary Jac Brennan, John Ivey, Mack Johnson, Emma Hutchens, and Jewel Jones for their contributions to this publication.
Any opinions, findings, conclusions, or recommendations expressed in this publication are those of the authors and do not necessarily reflect the view of the U.S. Department of Agriculture or SARE.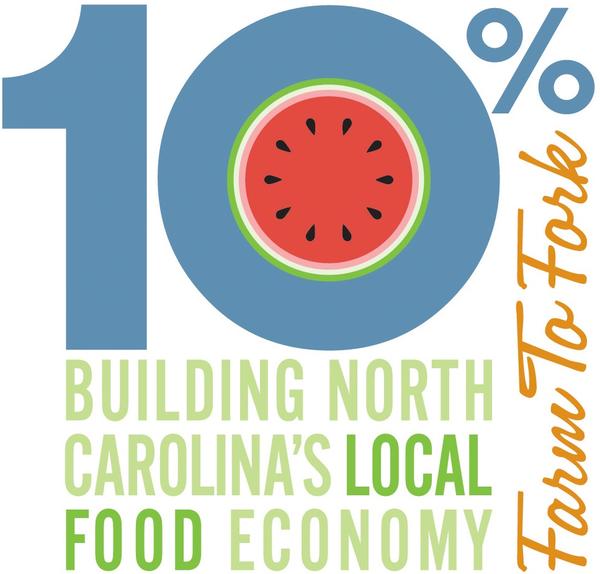 This material is based upon work that is supported by the Agriculture and Food Research Initiative competitive grant no. 2016-68006-24740 of the USDA National Institute of Food and Agriculture.
Publication date: Jan. 8, 2019
LF-017
N.C. Cooperative Extension prohibits discrimination and harassment regardless of age, color, disability, family and marital status, gender identity, national origin, political beliefs, race, religion, sex (including pregnancy), sexual orientation and veteran status.
This publication printed on: Dec. 06, 2023